Pedro Jaime Martinez, the man responsible for 8% of the GDP of the Dominican Republic, is finally pitching again. Happily, he is healthy thus far, and on pace to join the 2007 World Series Champion Mets. While it will be quite easy to find a spot for his arm in the rotation, it'll be even easier to find a spot for his jovial self in the clubhouse.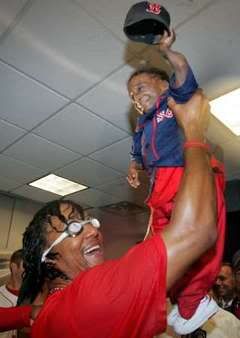 This is one former Mets first baseman who was wrong in thinking when Pedro came to town two years ago that he might not be the best seed in the locker room. Gladly these concerns were for naught, as it's pretty well known that Pedro comes to have fun, and always likes to give the Mets players and fans a good time.
Here's hoping that his abbreviated season, even by Roger Clemens standards, does him well and he picks up wins in games 1,4, and 7 of the World Series this year. Personally, I'm looking forward to having more fun than seeing Don Zimmer rushing at you.